Unlock your potential,
explore the possibilities
of a creative life
'See' art with your heart not your head. Let go of your assumptions and free your mind. 'Creating' art isn't about drawing well. It's an invitation to explore different expressions and expand your mind and senses - to see more and feel more. EGAKU is an art program which unleashes and nurtures the creativity we all possess through the repeated practice of 'seeing' and 'creating' art. Creativity is like a muscle, it requires training and continued practice. It's an exciting and never-ending journey - a creative journey. What potential will you uncover inside yourself? Where will this journey take you? Start your journey - channel your inner child and follow your curiosity.
Program overview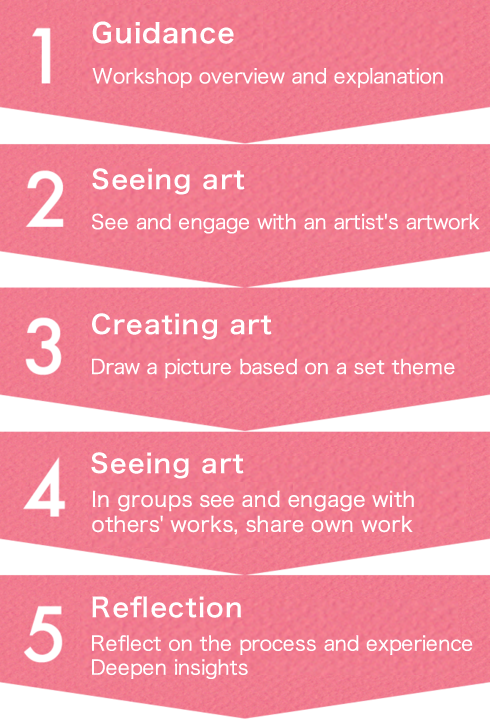 *Please note the language of instruction is Japanese, however, we offer English interpretation for non-Japanese speakers.
Is EGAKU for me?
You like art and you're curious about creative approaches to learning

Experience the excitement and challenge of creative self-expression driven by curiosity rather than fear

You want to explore your potential, and reimagine and transform the way you work and live

Discover who you are, what drives you and how this fits into what you want to do, your purpose in life and in work

You want to nurture your creativity and expand your capacity to feel, to live life fully

Expand your boundaries - the way you think and feel, and develop the ability to connect your imagination with creation

You want to expand and deepen your ability to communicate and relate to others

Discover the possibilities of non-verbal communication and develop a deeper understanding of the importance of verbal communication

You want to build creative confidence and an greater sense of autonomy and purpose

Develop the courage to create your own answers, and confidence to pursue what's important to you